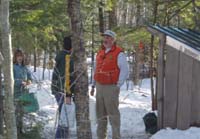 In June 2008, Maine resident Iver Lofving was interviewed for a news segment about peak oil and survivalism on CNN TV, and the segment was shown worldwide in over 100 countries. In an interview with this blog, Iver took the time to answer a few questions.
Danny Bloom:
How did that CNN story come about?
Iver Lofving:
I was asked by another member of the peak oil forums to talk to the reporter from CNN.
READ ENTIRE INTERVIEW HERE:
http://www.peakoil.com/post685395.html#685395