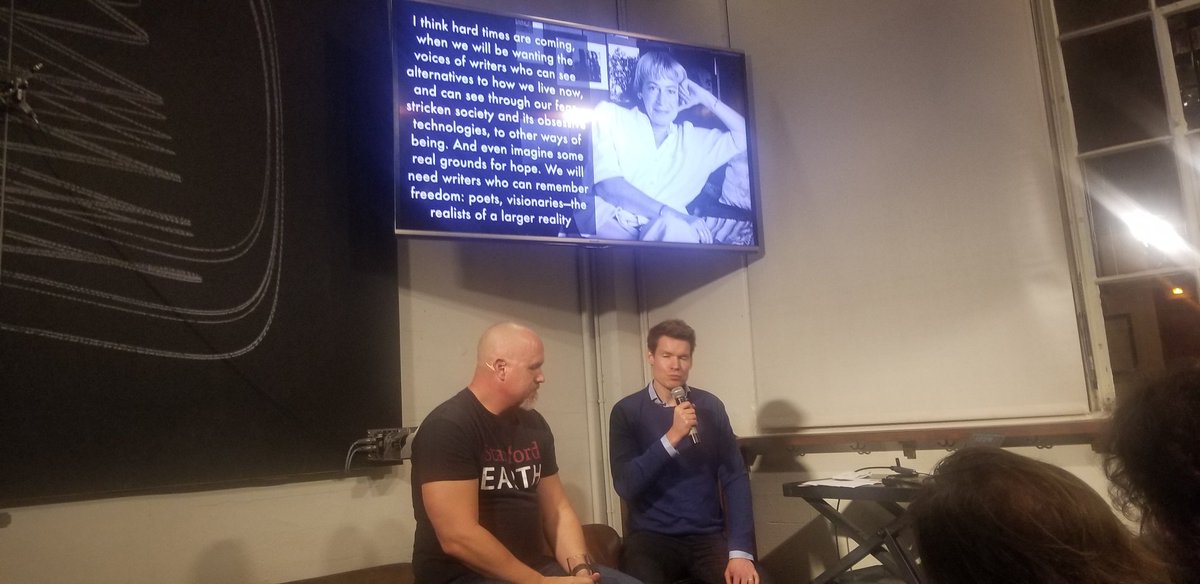 The warming planet is
increasingly the subject
of all kinds of fiction.
So beyond entertainment
or distraction could
climate fiction ("Cli-Fi")
actually help us in
solving the climate dilemma?
Biological anthropologist and
environmental scientist James Holland Jones
explained the neuroscience of
narrative: storytelling fits
the human brain.
Stories might be useful in bringing
popular attention to climate and
inspiring action on environmental issues.
James Holland Jones
is an Associate Professor
of Earth System Science and a
Senior Fellow at the Woods Institute
for the Environment
at Stanford University.
---------------------------

A friend who was there there
told this blog a day later:
The event wasn't really a ''panel.''
[What happened is] ....James
Holland Jones gave a talk
and there was a discussant.
Michael McElligott had tried
at first to get Annalee
Newitz to be the discussant
(her novel, ''Autonomous,''
has strong climate themes),
but she had a deadline
and was unable to make it.
@Hannu was the discussant
and he was amazing.
He's a critically-acclaimed
author and knows a lot about
science generally,
including climate science.
He had thoughtful questions
about the role of literature
in motivating social action,
why diversity matters in
fiction, the possibilities for
modeling complex systems
using narrative, whether
literature is the best artistic
form, other things .... @Hannu
got more enthusiastic about the
project of climate fiction as the night wore on.
Regarding Charlie Jane Anders,
who wasn't there, she is ...
a co-founder of io9 along with
her partner Annaleen Newitz --
and Charlie Jane is increasingly
writing about climate,
although for some odd reason
she never mentions the ''cli-fi''
genre term or even
the ''climate fiction''
term.
I don't know what she is afraid of.
In both her recent TOR piece
and her recent WAPO piece
she refused to even mention
either term in either of
her opeds. It's as if those new
literary terms are verboten in
her sci-fi mind, Rather strange
for a writer of her stature
to be so provincial and
closed-minded. Sci-fi and cli-fi
should co-exist in harmony,
and I would hope Charlie Jane
and Annaleen would be more
helpful in this regard.
They seem to be wedded to their
version of the sci-fi cult.
It's a shame they're
so closed-minded.
The message that [climate] fiction
dealing with climate science ....
is a powerful tool for
bringing about social and
political change is
certainly [an important one.]
Even though you were not there,
you will be pleased to know
that during the event that
night, that Dr Holland was
quite adamant in his call
during the discussion for
broader literary work
dealing with climate themes.
People say he is a big-tent kind
of guy and he is.
So, in conclusion, Dan,
from my point of view,
this event on January 29 was
an unmitigated ''win'' for
Cli-Fi.
People walked away inspired to take action!
They bought a ton of books --
including titles by ....authors like Barbara
Kingsolver, Richard Powers,
Moshin Hamid -- from the
Borderlands table in the back.
The success of this event was due,
in no small part, to the efforts
of Michael McElligott,
the amazing discussant
comments by @Hannu,
the encouragement of cli-fi
novelist Kim Stanley Robinson,
and the general support of
the ''Long Now'' community.
--------------
Michael McElligott

(aka Mikl-em)
Mikl produces a selection of our Tuesday night "salon talk" lecture series. He has been a mainstay of the San Francisco art and theater scene for over two decades as a writer, director, performer, and producer.