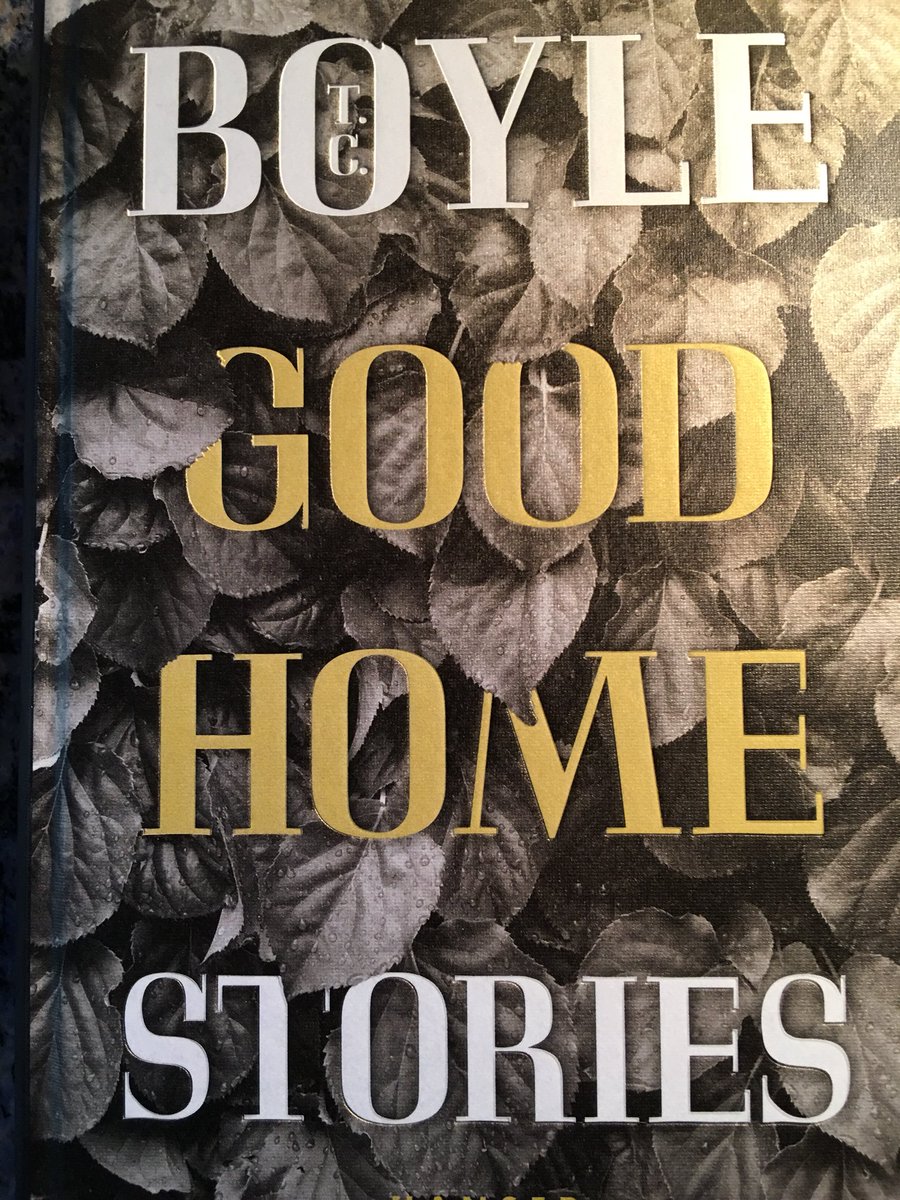 The German-language cover for a translation of T.C. Boyle's latest short story collection published this month in Germany only (although the cover copy uses English for the cover title and note that the book has no dust jacket. It's built-in, according to publishing sources. There are 20 stories from Wild Child & A Death in Kitchawank, opening with "Balto" & closing with "Los Gigantes," the sources confirmed.
It's a short story collection unique to Germany, and published only in Germany in German, for Boyle's German readers and fans, combining stories from two of his previous short story collections. You can see more about it at Amazon's site in Germany:
Pub date and Publisher:

der Hörverlag; Auflage: Gekürzte Lesung, Auswahl (

January 29, 2018

)
Wenn bei T.C. Boyle von "Good Home" die Rede ist, muss man auf alles gefasst sein: Ein Witwer legt sich eine Schlange zu, aber die Ratten, mit denen er sie füttern will, wachsen ihm so sehr ans Herz, dass er Dreizehnhundert von ihnen beherbergt. Eine Zwölfjährige soll vor Gericht gegen ihren alkoholkranken Vater aussagen; und plötzlich gibt es viele Wahrheiten. Eine betörende Frau lässt sich auf den Hundemann ein – kurz zuvor hatte sie ihm ihre Kätzchen anvertraut, doch was er mit denen vorhat, kann sie nicht ahnen. Der Bestsellerautor erkundet in seinen neuen Erzählungen, die dieser Band versammelt, die dunkle Seite der amerikanischen Seele – witzig, exzentrisch, unheimlich.
T. Coraghessan Boyle, born in 1948 in Peekskill, N.Y., geboren, unterrichtete an der University of Southern California in Los Angeles. Bei Hanser erschienen zuletzt Willkommen in Wellville (Roman, 1993), América (Roman, 1996), Riven Rock (Roman, 1998), Fleischeslust (Erzählungen, 1999), Ein Freund der Erde (Roman, 2001), Schluß mit cool (Erzählungen, 2002), Drop City (Roman, 2003), Dr. Sex (Roman, 2005), Talk Talk (Roman, 2006), Zähne und Klauen (Erzählungen, 2008), Die Frauen (Roman, 2009), Das wilde Kind (Erzählung, 2010), Wenn das Schlachten vorbei ist (Roman, 2012), San Miguel (Roman, 2013), die Neuübersetzung von Wassermusik (Roman, 2014), Hart auf hart (Roman, 2015), die Neuübersetzung von Grün ist die Hoffnung (Roman, 2016) und Die Terranauten (Roman, 2017). Im Frühjahr 2018 erscheint ein neuer großer Erzählungsband: ''Good Home.''