''With more and more cli-fi novels and movies on tap, I cannot stop thinking about how it is now possible to mine affecting, resonant drama out of the certainty of climate change catastrophe. It's no longer science fiction. What I'm saying here is that living through the twilight of humankind is gonna be worth it for future cli-fi novels and movies.''
-- Stephen Kelly, UK culture writer in London
LINK to Original article blog post:
https://www.merriam-webster.com/words-at-play/cli-fi-clifi-climate-fiction-genre-words-were-watching
Words We're Watching
New Adventures
in 'Cli-Fi'
Taking the
temperature of a
new literary genre.
---
As long ago as the 1950s, we have used
sci-fi
as a
referring to a genre of storytelling that portrays,
in ways truthful and speculative, how advances
in science and technology impact our lives
for better or for worse. The short form retains
the initial syllable of each word in the longer phrase,
with the shared long-i creating a nifty, assonant rhyme.
It's a similar truncation that gives us another
genre of book and film that sees increased relevance in our times:
cli-fi
.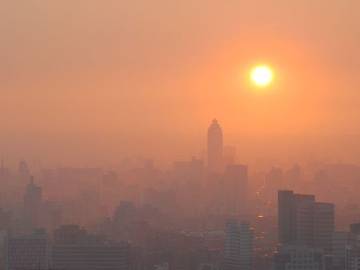 Like sci-fi, cli-fi deals with worlds real
and imaginary, but in this case the
narrative deals with how humans
manage living in environments with
severely altered climates.
The cli- in cli-fi is short for climate, and cli-fi is fiction
that projects how climate patterns,
and severe changes in such patterns,
affect or will affect our lives.
When it comes to courting
the interest of younger
generations, it certainly
helps that cli-fi is emerging at the
movies and on TV. Last year's
Christopher Nolan epic Interstellar
shows the American Midwest turning
into a second Dust Bowl, with a forecast
so dire it drives humans to seek a new planet.
In 2014's Snowpiercer, a bungled
attempt to stop global warming creates
a new ice age. Margaret Atwood's
popular cli-fi trilogy MaddAddam is
currently being adapted into a series for HBO,
whose wildly popular show
Game of Thrones also flirts, if
unintentionally, with global-warming themes.
— J. K. Ullrich, The Atlantic, 14 Aug. 2015
The genre of climate fiction is not new;
in fact, climate change, with a focus on
the warming of global temperatures
and its likely causes, is not a new
area of study. Svante Arrhenius, a
Swedish chemist who later earned the
country its first Nobel Prize,
constructed the first model charting
the influence of atmospheric carbon
dioxide on global temperature levels in 1896. For his work,
some call Arrhenius the father of climate science.
But research into climate fluctuation existed
well before that, and climate fiction exists
contemporaneously with Arrhenius's work.
An early example of the genre is Jules
Verne's Sans dessus dessous (1889,
translated as The Purchase of the North
Pole or Topsy-Turvy), in which
engineers use a powerful cannon to
eliminate the tilt of the Earth's axis,
thereby doing away with seasons and
causing the ice in the Arctic shelf to
thaw enough to become penetrable and
make accessible vast coal deposits
believed to be buried there.
Classics in the field of cli-fi include Margaret Atwood's
Oryx and Crake trilogy, consisting of Oryx and Crake (2003),
The Year of the Flood (2009) and MaddAddam
(2013); the novels of J. G. Ballard
(The Wind from Nowhere (1961),
The Drowned World (1962), and The Burning World (1964));
Ian McEwan's Solar(2010),
and Barbara Kingsolver's Flight Behavior (2010).
There have been films categorized as cli-fi as well:
notable ones include 1995's Waterworld,
in which Earth is submerged due
to the melting of the polar ice caps,
and 2004's The Day After Tomorrow, about a new global ice age.

And who could forget the drought-ravaged dystopia of
the Mad Maxfranchise?
a retired American journalist born in Springfield, Mass.,
and who has been based in Alaska, Japan and Taiwan
since 1991.
Alarmed by what he felt was a deficiency of
attention to climate science in the
popular consciousness,
Bloom sought a way to promote
stories that brought the subject to the forefront.
"I'm looking for the On the Beach of climate change,"
Bloom told The Literary Hub in 2017, referring to Nevil Shute's
1957 Cold War classic about postnuclear apocalypse.
"I'm looking for somebody somewhere in
the world who can tell a story that has the power of
On the Beach so it shocks people into awareness."
Bloom launched a website as part of his campaign,
and the term really caught on when other authors,
including Margaret Atwood herself, began
and other platforms.
Will cli-fi ever become as popular as sci-fi?
It's too early to say. But the genre has certainly
Words We're Watching
talks about
words we are increasingly seeing
in use but that have not yet
met our
criteria for entry.
How does a word get
into a Merriam-Webster dictionary?
This is one of the questions
Merriam-Webster editors are most often asked.
The answer is simple: usage.
Tracking Word Usage
To decide which words to include in the dictionary and to determine what they mean, Merriam-Webster editors study the language as it's used. They carefully monitor which words people use most often and how they use them.
Each day most Merriam-Webster editors devote an hour or two to reading a cross section of published material, including books, newspapers, magazines, and electronic publications; in our office this activity is called "reading and marking." The editors scour the texts in search of new words, new usages of existing words, variant spellings, and inflected forms–in short, anything that might help in deciding if a word belongs in the dictionary, understanding what it means, and determining typical usage. Any word of interest is marked, along with surrounding context that offers insight into its form and use.
---
Citations
The marked passages are then input into a computer system and stored both in machine-readable form and on 3" x 5" slips of paper to create
citations
.
Each citation has the following elements:
the word itself
an example of the word used in context
bibliographic information about the source from which the word and example were taken
Merriam-Webster's citation files, which were begun in the 1880s, now contain 15.7 million examples of words used in context and cover all aspects of the English vocabulary. Citations are also available to editors in a searchable text database (linguists call it a
corpus
) that includes more than 70 million words drawn from a great variety of sources.
---
From Citation to Entry
How does a word make the jump from the citation file to the dictionary?
The process begins with dictionary editors reviewing groups of citations. Definers start by looking at citations covering a relatively small segment of the alphabet – for example gri- to gro- – along with the entries from the dictionary being reedited that are included within that alphabetical section. It is the definer's job to determine which existing entries can remain essentially unchanged, which entries need to be revised, which entries can be dropped, and which new entries should be added. In each case, the definer decides on the best course of action by reading through the citations and using the evidence in them to adjust entries or create new ones.
Before a new word can be added to the dictionary, it must have enough citations to show that it is widely used. But having a lot of citations is not enough; in fact, a large number of citations might even make a word more difficult to define, because many citations show too little about the meaning of a word to be helpful. A word may be rejected for entry into a general dictionary if all of its citations come from a single source or if they are all from highly specialized publications that reflect the jargon of experts within a single field.
To be included in a Merriam-Webster dictionary, a word must be used in a substantial number of citations that come from a wide range of publications over a considerable period of time. Specifically, the word must have enough citations to allow accurate judgments about its establishment, currency, and meaning.
The number and range of citations needed to add a word to the dictionary varies. In rare cases, a word jumps onto the scene and is both instantly prevalent and likely to last, as was the case in the 1980s with AIDS. In such a situation, the editors determine that the word has become firmly established in a relatively short time and should be entered in the dictionary, even though its citations may not span the wide range of years exhibited by other words.
---
Size Does Matter
The size and type of dictionary also affects how many citations a word needs to gain admission. Because an abridged dictionary, such as Merriam-Webster's Collegiate® Dictionary, has fairly limited space, only the most commonly used words can be entered; to get into that type of dictionary, a word must be supported by a significant number of citations. But a large unabridged dictionary, such as Webster's Third New International Dictionary, has room for many more words, so terms with fewer citations can still be included.
---
Authority Without Authoritarianism
Change and variation are as natural in language as they are in other areas of human life and Merriam-Webster reference works must reflect that fact. By relying on citational evidence, we hope to keep our publications grounded in the details of current usage so they can calmly and dispassionately offer information about modern English. That way, our references can speak with authority without being authoritarian.