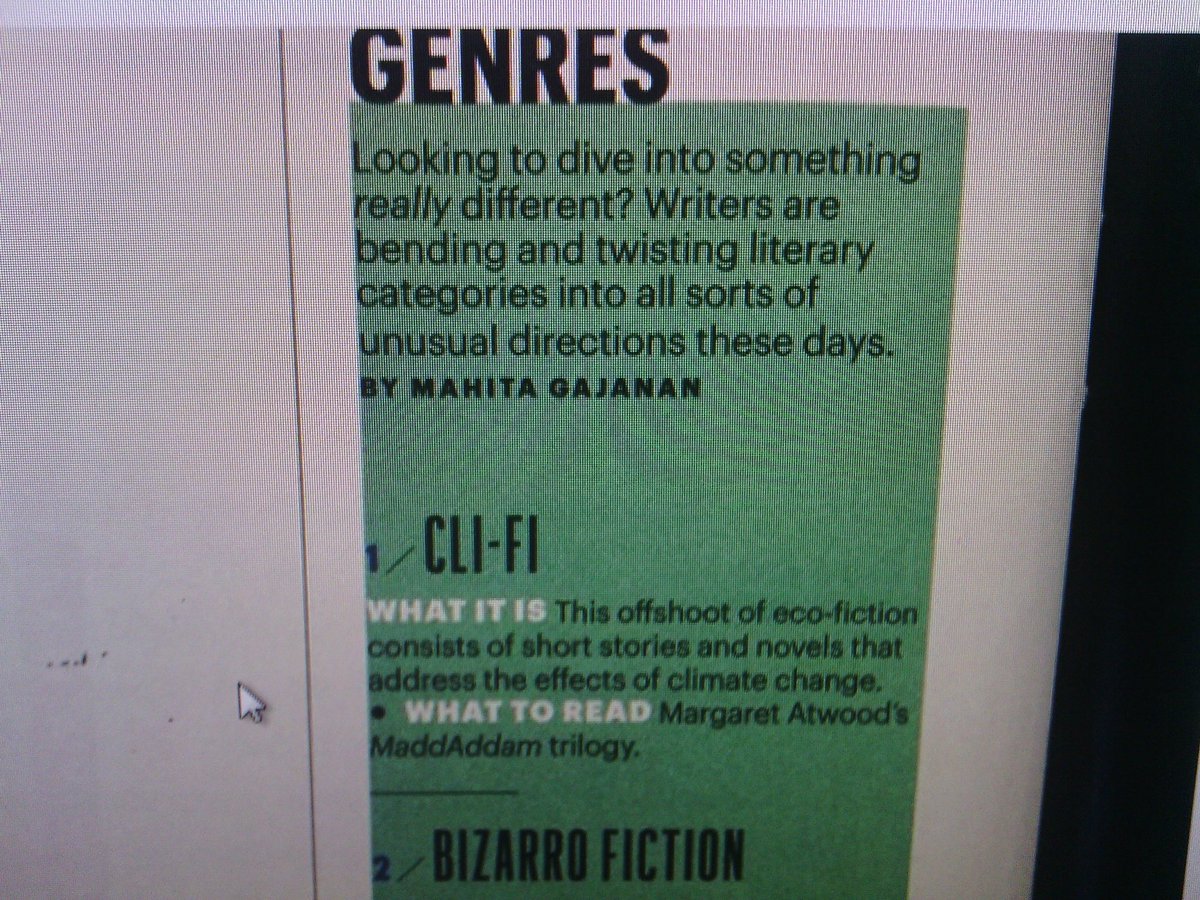 RE:

'....might start a tally of those who do use the 'cli-fi' term and are comfortable with it...''
Good idea.
To help you get your bearings, Niall, here's a starting tally of those who do use the "cli-fi" term either as a standalone literary genre, or a subgenre, a motif, a meme, or a general media and headline buzzword for news articles in the New York Times and the Guardian, among 200 others publications in print and online:
NOTE for ACADEMICS KEEPING TRACK OF SUCH THINGS:
the
''Cli-Fi''
term appears 16 times in this 2000 word article. As in the main website of
Cli-Fi.net
Hollywood's
Missed, and Mixed, Messages
In 2016, for the first time in 13 years, no full-length fictional film will address climate change.
Jennifer Wicke
....
and 100s more
.
Among them:
Wai Chee Dimock
Sarah Holding
Richard Crownshaw
David Thorpe
Donna Thompson
Margaret Atwood
Meg Little Reilly
David Brin (as a subgenre)
Terry Harpold
Jean-Marc Ligny
Bruno Arpaia
Rodge Glass
Philip Judge
Birgitte Rahbek
Jesper Weithz
Antti Tuomainen
Emmi Itaranta
Sarah Stankorb
Ellen Szabo
Stephen Siperstein
Stephanie Lemenager
Ted Howell
Rio Fernandes
Sina Farzin
Spencer Robins --
Spencer Robins is a teacher and student of literature. He lives in Los Angeles.
https://lareviewofbooks.org/article/so-hot-right-now-cli-fi-comes-to-ya/
#!
Jim O'Donnell
Jonathan Sturgeon,
Jean-Marc Ligny,
Jason Mark,
Pamela Paul,
Gregory Cowles,
Susan Ellingwood,
Natalie Shulter,
Room for Debate - NYT,
Ilija Trojanow,
Ethan Cohen,
Ethan Marshall Cohen,
Hamish MacDonald
Jim Laughter, Tulsa
Angela Evancie, NPR
Nathaniel Rich - NYPL
Elizabeth Kolbert NYPL
Andrew C Revkin - Dot Earth blog, NYT
Richard Chen
Sveta Lin
The Guardian newspaper
The Telegraph Newspaper
The Sydney Morning Herald
The New York Times
The Boston Globe
The Australian
The Age
The Japan Times
The Associated Press
Reueters News Service
Le Monde
Liberation
James Bradley (as a subgenre)
Cat Sparks (as a subgenre)
Mireille Juchau
Alice Robinon
KSR (as a subgenre)
Torstein Viðdalr
Anneliese Schultz
Andrew Milner (as a subgenre)
David Holmes,
Scott Thill
Amy Chambers
Glyn Morgan (as a subgenre)
Sam Robinson
Alex Goodbody
Danilo Taino
Elisa Cozzatini
Teia Maman
George Marshall
Saci Lloyd
Jane Davidson
Lex Townsend (she
tweeted about the 'Cli-fi' panel at Continuum)
Don Bredes
Dede Cummings
Lisa Devaney
Kathryn Blume
Bethan Forrest
David Reid
Edward l. Rubin
Joe Follansbee
Jessica George
Greg Kleiner
Heather Sullivan
Heather Rutledge
Josh Weinberger
Clarke Owens
Liz Jensen
Kate Rigby
Jane Dawson
Gillian Kendall
Gerry Canavan (as a subgenre)
Jennifer Fliss
pic.twitter.com/voaJAC0iZ7