A recent author's event in Chicago with Amitav Ghosh chatting during a luncheon talk at the University Club in Chicago on
October 19
about climate change issues and his new monograph THE GREAT DERANGEMENT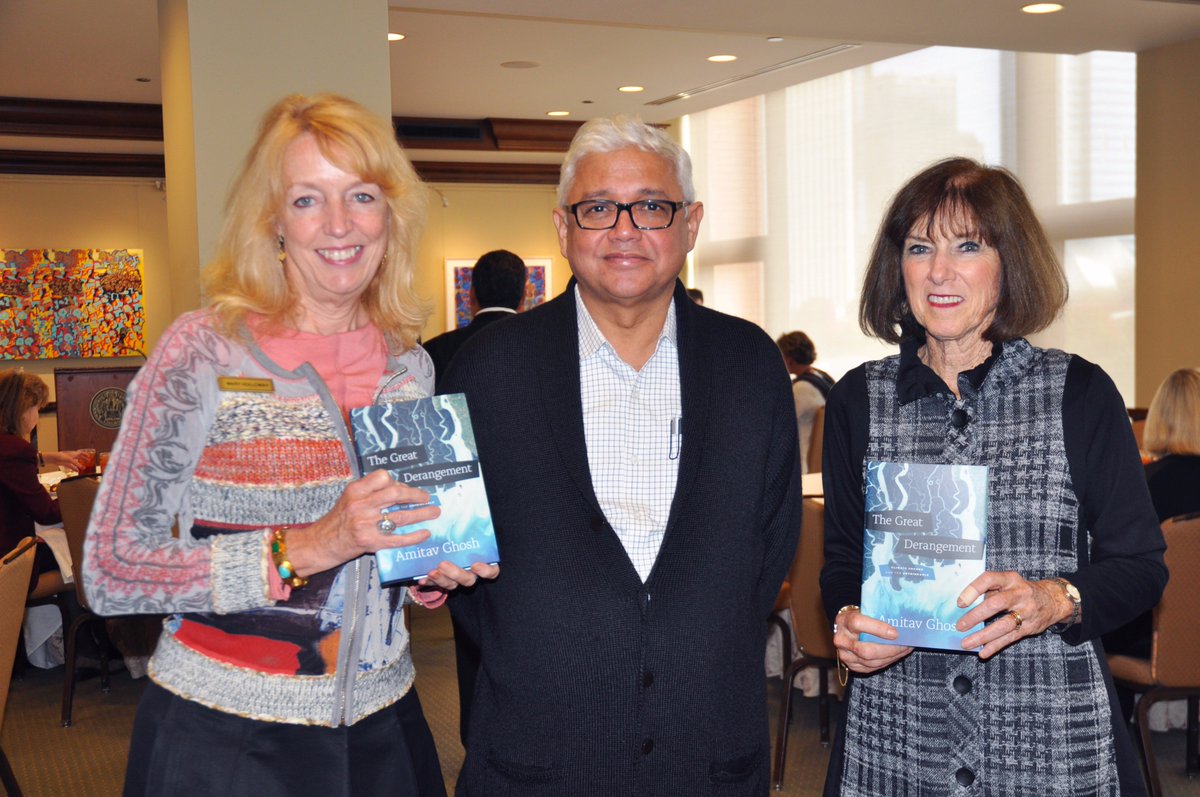 Amitav Ghosh at The University Club of Chicago
October 19 @ 12:00 pm

-

1:00 pm
The lunchtime event in Chicago with Amitav Ghosh was followed by a short question and answer period after the lively talk by the American-Indian climate essayist.
But sadly, Dr Ghosh is proscriptive about what kinds of fiction Western novelists may deploy to talk about these issues, but they have been tacking AGW issues since the 1960s. Ghosh did not do his homework on how genre novels and genre writers HAVE BEEN tackcling climate change in their novels for 50 years. Maybe not in India and maybe not Mr. Ghosh, but hundreds of writers in the West have, and he fails miserably in his chapter on literature and climate change. Wake up, Dr Ghosh!
by staff writer and agencies
CHICAGO -- Amitav Ghosh, 60, spoke about his new book of essays, published by the University of Chicago Press, and based on four lectures he gave at the University in October 2015, one year ago.
However, nobody but nobody in the audience challenged Dr Ghosh on one of his major mistaken theses in the book, where he states that modern novelists have not been tackling climate change issues, when in fact, many of those in attendance know about the cli-fi movement worldwide and they know that Ghosh did not do his homework for that chapter of the book, because in fact, hundreds of Western novelists have been writinga about climate change and natural disasters since the 1960s. But for some reason, Ghosh does not admit this in his book, nor did he do so in his Chicago lectures in 2015 were the basis for this book. Problem here.
See

Cli-Fi Report website

to counter Ghosh's mistaken thesis that ''
artists, novelists, musicians, and film makers, when it comes to imagining the possibilities of the
Anthropocene, are

not

writing novels about it.
cli-fi.net
Amitav Ghosh at The University Club of Chicago
October 19 @ 12:00 pm

-

1:00 pm
Event Navigation
The Book Stall joined The University Club of Chicago in welcoming acclaimed author
AMITAV GHOSH
on
Wednesday October 19th at NOON
to celebrate the release of his new monograph,
The Great Derangement: Climate Change and the Unthinkable
.
Ghosh examined our inability — at the level of history and politics — to grasp the scale and violence of climate change.
Amitav Ghosh was born in Calcutta and as the son of a diplomat grew up in India, Bangladesh and Sri Lanka. He has a PHD from Oxford and wrote the sci-fi genre novel,
The Calcutta Chromosome
,
in 1991.
(please note that the dress code was
business casual
;
denim was not permitted

).